Homemade Chocolate Candy Recipes
...that will make your mouth water.
and your hands itch to get started!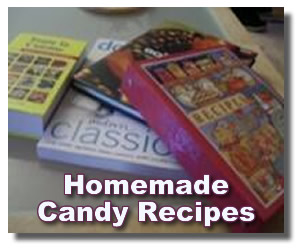 Great Homemade Chocolate Candy Recipes are a treasure that are often passed down from generation to generation.
It's wonderful to enjoy the experience of teaching your children to make a traditional treat that your own mother or grandma used to make with you.
What? You've never had this pleasure? I'm so sorry to hear that!  Don't worry. It's not too late to rectify that situation no matter what your age or situation.

Even if you don't have those cherished memories yourself, you can start your own traditions so that one day your kids and grandkids will say, "Remember when Grandma taught us how to make these yummy treats?"
To help you get started developing your own collection of homemade chocolate candy recipes, I invite you to begin by experimenting with some of my tried and true delectable concoctions.
If you are like me and have a couple of recipe gems that you absolutely adore, please share with the rest of us! Can we ever have too many chocolate candy recipes? Definitely not!
Pass on your own personal favorites or read contributions from other visitors...

Tricks Of The Trade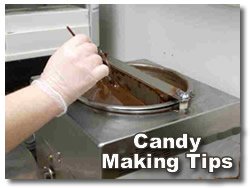 If you are new to candy making, you might want to go over some basic rules that will help you achieve the best results. Chocolate can be a little bit tricky, but don't let this scare you.
If you employ these candy making tips you won't have any trouble, but you will have a lot of fun. Don't forget to lick the bowl!

Cream Filled Chocolates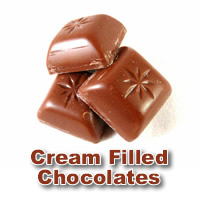 It may take a little longer to whip up a batch of cream filled chocolates because the chocolate has to be tempered first, but that little extra effort is certainly worth it.
If you follow the instructions for tempering, you will love the results.
You may also like to try some buttercream candy recipes, too.

Chocolate Dipped Candies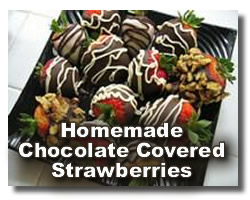 Whether you are dipping nuts, fruit, fondant, or caramels into melted chocolate, these recipes will help you design a chocolate covered treat that is a winner and that your whole family will enjoy.
You may even want to get creative and drizzle a contrasting melted chocolate on top for added eye appeal (white on dark, dark on milk, etc.).
Let your imagination soar!

Homemade Chocolate Fudge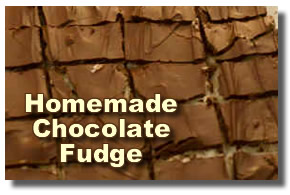 Some people wouldn't classify fudge as candy. I am definitely NOT one of them! :)
Chocolate fudge happens to be one of my all time favorite luxuries, so I couldn't bear to leave it out. It has that melt in your mouth richness that you can savor with every bite.
There are quick and easy microwave fudge recipes as well as old fashioned slow cooking fudge creations that are assembled on the stove top. Both methods produce results that are hard to keep around, at least at my house.

Molded Chocolate Candy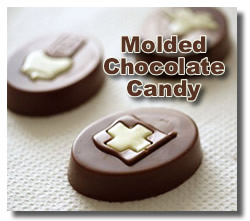 Chocolate candy made in molds can be especially fun for kids. They can make a variety of different designs without too much trouble.
Chocolate candy molds are also really great for favors at parties, showers, and other special events. With these recipes for chocolate candy molds, you can change the flavor by adding your own preferred flavored oil.
Learn more about how to mold chocolate candy.

Chocolate Peanut Brittle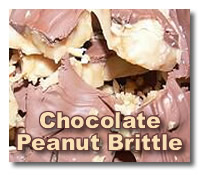 I love peanut brittle, but when you add chocolate it takes on a whole new dimension.
Try some of these chocolate peanut brittle recipes for something a little out of the ordinary. You will be pleasantly surprised with the results, I'm sure.

Additional Homemade Chocolate Candy Recipes
There are plenty of different kinds of chocolate recipes from which to choose. You can try some of these to get started:
For the holidays you can check out some other extra special recipes:
Christmas recipes
Valentine's Day recipes
Easter recipes
Which homemade chocolate candy recipes will you choose?
Gather your candy making supplies, assemble the tools of the trade, don your apron, and choose one of our many homemade chocolate candy recipes. Let's get started!
The sooner we get done the sooner we can sample!

Got A Scrumptious Homemade Chocolate Candy Recipe?
Do you have any tried and true homemade chocolate candy recipes? PLEASE, please be so kind as to divulge them to the rest of us chocoholics. We just can't get enough!!!