Chocolate Fudge
A Melt In Your Mouth Favorite

Chocolate fudge happens to be one of my all-time favorite luxuries!
You know what that means.  I am definitely including several pages of recipes  dedicated to fudge here in my 'chocolate' section. 

Fudge has that melt in your mouth richness that you can savor with every bite.
Some people enjoy their fudge packed full of all kinds of yummy bits and pieces.  Believe it or not, I prefer my fudge pretty simple and without nuts, fruits, coconut, candies, cereals, etc., but I don't mind an added flavor profile.

In fact, after a near lifetime of indulging in one of my favorite treats, I still think my absolute favorite flavor is chocolate peanut butter fudge.

I know that everyone's not just like me, so I'll make sure to cover a variety of fudge recipes and options.  I feel confident that you'll find a favorite that you will just love.
There are so many different choices and wonderful fudge flavors to choose from, I simply don't know how you will decide!
If you already have a favorite fudge recipe, please share it below or enjoy the favorite fudge recipes that others have added and give us your feedback.

Make Your Own Homemade Chocolate Fudge
Let's get started.  If you want to make your own fudge candy, there are quick and easy microwave fudge recipes as well as old-fashioned, slow cooking fudge recipes that are assembled on the stove top.
Both methods produce results that are hard to keep around, at least at my house.  Determining which type of cooking method you should choose may just depend upon how much time you have to spend in the kitchen and how desperate you're feeling for a fudge fix.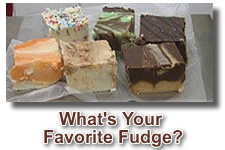 As I said, there are so many different flavors and variations of fudge.
However, I'm just going to start with fudge recipes that actually contain some form of chocolate. While I do enjoy some chocolate-free fudge flavors (coffee fudge; yum!), I must admit, chocolate is at the top of my list of indulgences.
If you like a twist or some extra zip, you may want to try some of these delicious fudge recipes that add a little something to the chocolate.  You might just discover a new match made in heaven.

Chocolate Peanut Butter Fudge
Chocolate Mint Fudge
White Chocolate Fudge
Christmas Fudge
Whatever your preference, I am sure you will find a fudge recipe that will be just right for you and your family (that is, if you're willing to share). :)
There's definitely a science to fudge making.  It's quite interesting.  Actually, if you want to understand more of the physics behind how and why fudge becomes fudge, you'll find an informative article here at the University of Alaska. 
It's a short but informative read, but I guess it will forever be a mystery as to why  fudge is so absolutely and unbelievably delicious! Ahhhhh...

Share your Favorite Fudge Recipes and Experiences With Us!
Do you have any tried and true homemade fudge recipes? I'd love to give them a try! From one sweet tooth to another, "Hand 'em over!"

Maybe you'd just like to tell us about an amazingly delicious fudge you tasted and never forgot. I'm all ears. Do tell...