The Roman Road To Salvation

Don Berg's Testimony
You may have heard of the Roman Road to Salvation. I guess you could say that's how I was saved, and I'd like to share my testimony with you. My testimony is a little different than Angies testimony, but hopefully it will be a help and encouragement to those who read it.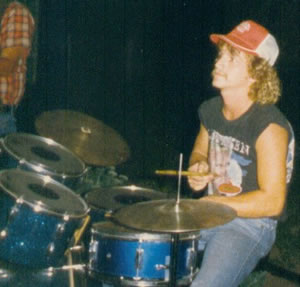 I grew up in a broken home. My mom and dad divorced when I was two years old. I had a good mother, but because of the situation, she had to work full time to care for my brother and me.


As a result, I pretty much ran the streets when I wasn't in school and did whatever I wanted to do. At a young age I started smoking and drinking and hanging out with a rowdy group of kids in my neighborhood, getting in trouble as much as possible.


As a teenager I got involved heavily in drugs, alcohol, and rock-n-roll music. I loved my rock music and became a drummer in a rock band. I had long hippy hair, a pierced ear, and loved to party.


It's not that I didn't believe in God. I did. I had gone to Sunday School as a child. I knew about Jesus and that He died on the cross and rose from the dead, but it wasn't really personal to me. I just wanted to live my own life and enjoy it to the fullest. I wanted to do whatever I thought was fun and would make me happy in life.


Some people try to say that sin isn't fun. That's really not true. Sin can definitely be fun. The Bible even says that there is pleasure in sin.

Choosing rather to suffer affliction with the people of God
than to enjoy the pleasure of sin for a season. ~Hebrews 11:25

Although sin can be fun for a little while, the season soon ends and the result is heartache and ruined lives. I learned that the hard way.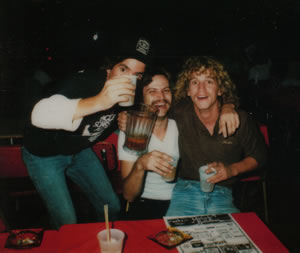 By the time I was 18 years old, I had a couple of friends killed in drunk driving accidents on the way home from parties, even some that committed suicide because they couldn't cope with the problems in their lives.


Late one night I was laying on my bed after returning home from a party thinking about these things. I realized that I had been doing everything I thought would make me happy in life, but I was still miserable.


That's when I began to talk to God. I said, "God, there has to be more to life than this. What did you put me on this planet for? If you show me what you want me to do, I'll do it."


The next morning there was a knock on my front door. When I went to the door there was a man there who was out witnessing from First Baptist Church and Hyles-Anderson College. I knew immediately where he was from because I lived not far from the college and these guys stopped by fairly often to try to talk to me about God. I always told them I wasn't interested and chased them away.


This day was different. Steve Brewer was the man on the doorstep and he asked me this question, "Are you 100% sure that if you were to die today that you would go to heaven?" Right away I said that I knew I wouldn't go to heaven because I knew what kind of life I was living.


Steve then asked me, "If I could show you in the Bible what God says you need to do to go to heaven, would you do what God said?"


I immediately remembered what I had said to God the night before. I invited Steve in to tell me more. He opened his Bible and took me down the Roman Road to Salvation.
The Roman Road To Salvation

Of course, I didn't know what the Roman Road to Salvation was at the time, but I've since learned these Scriptures and shared them with many others. Romans is a book in the New Testament that outlines God's simple plan of salvation.


Roman Road to Salvation - Part 1 - We are all sinners.

First of all, he showed me that I was a sinner.

As it is written, There is none righteous, no, not one: ~Romans 3:10

For all have sinned, and come short of the glory of God; ~Romans 3:23

That was pretty straightforward, and it was easy for me to agree that I was a sinner.


Roman Road to Salvation - Part 2 - We deserve to go to hell.

Secondly, he showed me God's punishment for sin.

For the wages of sin is death; but the gift of God is eternal life
through Jesus Christ our Lord. ~Romans 6:23

Steve explained how that the natural consequence for sin is death and hell and separation from God forever.


Roman Road to Salvation - Part 3 - God loves us and sent His Son to take our place.

But he also explained how God's love for us caused Him to send His Only Son, Jesus Christ, to come and take the punishment for our sin on Himself so that we can be forgiven.

But God commendeth his love toward us,
in that, while we were yet sinners, Christ died for us. ~Romans 5:8

This "gift" from God is amazing and free because it was paid for by the death, burial, and resurrection of Jesus.


Roman Road to Salvation - Part 4 - We must accept God's gift.

All we have to do is believe it and receive it.

That if thou shalt confess with thy mouth the Lord Jesus, and shalt believe in thine heart that God hath raised him from the dead, thou shalt be saved. For with the heart man believeth unto righteousness; and with the mouth confession is made unto salvation. For whosoever shall call upon the name of the Lord shall be saved. ~Romans 10:9, 10, & 13

That day, October 20, 1979, I realized for the first time that I personally needed to call on the Lord Jesus in prayer and accept His gift of forgiveness and salvation. I bowed my head with Steve Brewer, right there in my living room, and asked the Lord to forgive me and save me.


Following the Roman Road to Salvation was just the first step in my Christian life, and by far the easiest. TRUSTING in the Lord Jesus for salvation was simple, but LIVING the Christian life was a whole lot harder.


At first I tried to give up my sinful habits in my own strength, but I just kept failing and giving in to the old temptations again and again. After about 6 months or so, I even gave up the fight and went right back into my worldly lifestyle for a few years.

For whom the Lord loveth he chasteneth,
and scourgeth every son whom he receiveth. ~Hebrews 12:6

In spite of my struggle, God didn't give up on me. I know He loved me a lot because He beat the fire out of me! That's one way I knew that I really was His child.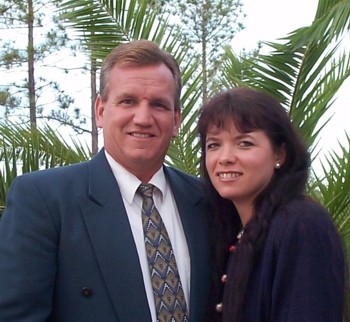 God finally got my attention and I surrendered my life completely to Him.

I eventually went to Bible College at Hyles-Anderson College where I learned how to live the Christian life more completely. It was at HAC that I surrendered my life to missions and met my lovely wife, Angie.


I was trying everything I could to be happy in life, but the results of sin only led to unhappiness. When I started obeying and following God, I ended up with more blessings and happiness than I could have imagined.

For whosoever will save his life shall lose it:
and whosoever will lose his life for my sake shall find it. ~Matthew 16:25

The thief cometh not, but for to steal, and to kill, and to destroy: I am come that they might have life, and that they might have it more abundantly. ~John 10:10

If you've never trusted in the Lord Jesus Christ personally, I'd like to encourage you to go over the Roman Road to Salvation and believe on Jesus before it is too late.



Return from Roman Road to Salvation to more about Don and Angie Berg
Return to Angie Berg's homepage