Chocolate Candy and Dessert Recipes and Ideas
"There's just something about chocolate!"

Mmmmm! Chocolate Candy! Whether I get a glimpse of some fudge, someone mentions bonbons, or even if I'm just daydreaming about Hershey's kisses, something comes over me.
I can feel my lips begin to smile, my eyes light up, and my mouth start to water. In fact, I'm in chocolate heaven!
Are you a kindred spirit who knows that the words chocolate and dessert and recipes are some of the best in the English language?

I have been a devoted chocoholic for as long as I can remember. As a child, I dreamed of the day when I would be old enough to eat as much candy as I wanted.
But with age comes wisdom, so now I am wise enough to splurge only on my favorites!
If, like me, you believe that chocolate should be a part of every sane person's life, then you have come to the right place. I am eager to share with you my favorite recipes, gift ideas, and tips for making the most delicious chocolate candy imaginable.
Chocolate Candy Mall is moving here!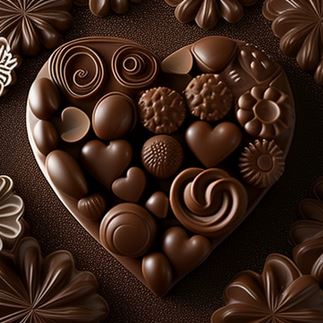 I started my very first website, chocolate-candy-mall.com, way back in 2006.  I knew absolutely nothing about building a site, but I had a lot of fun learning. 
I had so much fun, that I branched out and started building other sites (including this one) over the next few years. 
Fast-forward to today and include all life's twists and turns that God has delivered with His wisdom and grace, and I find I can no longer maintain all of my websites and do them justice.  
I came to the difficult decision to scale down and consolidate.  If you happen to be a writer, you probably will understand that it's hard to pare down your words or toss content that you spent so much time and energy crafting.
For that reason, I've determined that before I empty the cupboards and dismantle the kitchen at Chocolate Candy Mall, I'm going to relocate some of my favorite chocolate candy recipes, brownie recipes, chocolate fudge recipes, baking and candy making tips, chocolate candy party favor ideas, and more, by bringing them here.


Chocolate Goodness Comes In Many Forms
Enjoy My Favorite Chocolate Candy and Dessert Recipes

In addition to my mom's famous brownie recipe, the mouthwatering fudge recipe that I make in the microwave, and so many more candy and dessert recipes, here are some of the other great tidbits you'll soon see added to angieberg.com.


For those special occasions when you want to give a gift that truly wows, consider a gourmet chocolate gift basket. And why not take it one step further by making your own? I have plenty of tips and tricks to help you create a one-of-a-kind gift that will delight even the most discerning recipient. You might really enjoy the fun of making and giving chocolate candy bar cards!


If you are feeling adventurous and want to try your hand at candy making, I have plenty of homemade candy making tips that will help you get started. I know from experience that candy making can be tricky, but with a little bit of guidance, you will be creating your own mouthwatering treats in no time.


And what about those special times during the year that call for something truly extraordinary? From Valentine's Day to Christmas, I have plenty of ideas for holiday chocolates that will make your heart skip a beat. 


But chocolate goodies aren't just for special occasions. Chocolate is the perfect treat for any time, whether you need a pick-me-up during a long day or want to celebrate a small victory. 


If you really want to impress your friends, family, clients, or customers, use one of the custom or personalized candy ideas to do the job for you.


Need to raise money for a special event? I've organized the best chocolate candy fund-raisers and guidelines to help make your promotion a success.


Upcoming wedding, birthday party, baby shower, retirement party, graduation, or other special event? I've got a selection of my favorite chocolate party favor ideas to get you thinking and planning.  You can leave a memorable and lasting impression with fun or fancy treats.


I have even included a section below for YOU to add your own favorite chocolate candy and dessert and recipes so that we can all share, and share alike. I'm dying to see what you've come up with!


Is your mouth watering yet?  Don't worry.  I won't keep you waiting long.  
As a true chocolate lover, I know that this site may become addictive. But I invite you to indulge with me, to share your own favorite chocolate candy and dessert recipes, and to savor every moment of this delicious journey.
If you want to be sure not to miss a thing, subscribe to my Simply Angie newsletter and be informed when new content is posted. 

Blessings,
         Angie

Share Your Favorite Food, Recipes, & Cooking Tips!
Do you have a favorite food, recipe, or cooking tip that you are willing to divulge? Remember, sharing is caring!

In spite of all the crazy in this world, God has given us lots to love and appreciate. Enjoying food and serving our family and friends by creating tasty treats are just a few of those blessings.

I'd be so pleased to have you show off some of your own experiences with food and family, so I can steal your ideas. ;)
More Chocolate Candy and Dessert Recipes and Ideas:

White Chocolate Raspberry Cheesecake | Best Brownie Recipe | Easy Brownie Recipe | Cheesecake Brownie Recipe | Chocolate Candy Bar Cards | Chocolate Fudge | Chocolate Brownies |