Cheesecake Brownie Recipe
Creamy Cheesecake Brownie Recipe
Submitted by Kate H.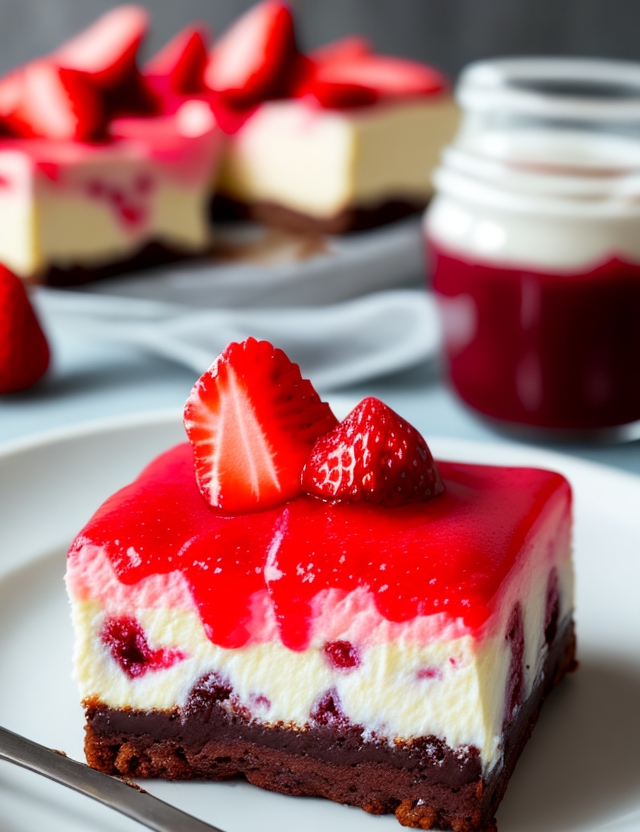 Recently, I found a great way to kick up my everyday cheesecake brownie recipe, and the secret is...it's all in details!
When I think of cheesecake, I think of creamy cake with a delicious graham cracker crust and fresh fruit topping.
The only thing better than that is having all of it in a brownie.
To separate these cheesecake brownies from a plain brownie cheesecake is the special strawberry glaze topping you make to go over it.
Of course, if you prefer blueberries, raspberries, or some other fruit, you can go with that.
We just happen to love strawberries!
My Cheesecake Brownie Recipe
Ingredients
To start pre-heat your oven to 350 degrees and set aside a greased 9" inch baking dish. There are three separate components to this recipe, the brownie batter, the cheesecake layer, and the strawberry topping.
To make the cheesecake brownie batter you will need:
2 cups flour
2 cups sugar
2/3 cups of cocoa powder
1 cup of melted butter
4 eggs
2 Tsp of vanilla extract
And for the cheesecake layer you will need:
8 oz cream cheese (softened)
1/3 cup of sugar
1/2 tsp vanilla extract
1 large eggs
Lastly, for the strawberry topping you need:
1 cup strawberries (fresh or frozen)
1/2 cup of sugar
1/2 cup strawberry puree
Directions
You start by mixing the brownie batter just like you would make any other brownie batter. Start by mixing the dry ingredients in one bowl and the wet ingredients in a separate bowl.  Then combine both mixtures together until the batter is smooth and consistent.


In another bowl, start on the cheesecake layer. Whisk the cream cheese for a couple of minutes until smooth. It helps if the cream cheese is already softened. Of course, you can use a hand mixer to help things move along, but what's the fun in that?

After the cheese is smooth, stir in the vanilla and the sugar, then beat in the egg.


Evenly spread the regular brownie batter into your baking dish, then add dollops of the cheesecake layer on top by the tablespoon.

If you prefer a slightly blended mixture, you can take a knife and drag it in a zigzag motion across the batter, creating a nice swirl with the cream cheese mixture. Not only does it help to make everything cook evenly, but it also looks really cool.


Bake the brownies in your oven for about 20- 25 minutes.


Now, while your brownies are baking, make the strawberry sauce! Make a simple syrup by boiling 1 cup of water with 1/2 cup of sugar and heat until the sugar is completely dissolved, then add in the purée.

Remove from heat and let cool a little and add in the strawberries. This can even be done the night before to better set up the flavors!
Hint: I always wait to add the sauce just before serving the brownies so that leftover brownies (if there are any) don't get soggy. Plus, this way you can add on as much or as little strawberry sauce as you want!
If I'm feeling extra fancy, sometimes I add a leaf of mint to the top for that extra special little decoration.
This cheesecake brownie recipe is sure to create some tasty results. All you need is a few ingredients, a little time, and it doesn't hurt to have a few extra little hands in the kitchen to help clean up. Enjoy!
~ By Kate H.
Share your favorite brownie recipe here!
Cheesecake Brownie Recipe
What's Your Favorite Brownie Ever?
Are you convinced you've eaten the best brownies in the world? If so, tell us about it. It may be a recipe passed down from Grandma. Or, maybe it was a brownie that you ate in a restaurant or purchased from a quaint little shop somewhere. Give directions! :)

Seriously, though, let's see who comes up with the best brownie creations of all time. Submit yours and we can all judge and comment for ourselves.