Chocolate Candy Bar Cards
A "Noteworthy" Idea

I discovered the fun of making chocolate candy bar cards for special people in my life back in my college days.
I'm not about to admit how long ago that was, so don't even ask!   ☺️ But some ideas are pretty timeless, and I think spoiling someone with a chocolate creative gift is one of those lovely ideas that never goes out of fashion.
It didn't matter who I wanted to bless - a roommate, a boyfriend, a teacher that had been a great help, or even someone who seemed to be having a difficult time.  Chocolate candy bar cards were a great yet inexpensive way for a "poor college student" to show their gratitude, friendship, encouragement, or affection.
All these years later, I still indulge in a bit of candy bar card making for the special people in my life. These sweet creative treats never fail to make someone's day and bring a smile! 


Dear Don,
You are such a hunky guy.
(Blacked out the c in Chunky)
I just wanted to Take 5 minutes to tell you how Special you are to me. (Take 5 & Special Dark Hershey's)
I couldn't find a greater friend if I searched all across the Milky Way.
(Milky Way)
I would follow you anywhere, even to Mars.
(Mars)
If you ever Crunch my heart, I know I would fall to Pieces.
(Nestle Crunch & Reese's Pieces)
I hope this card makes you Snicker and have a wonderful day!
(second 's' blacked out in Snickers)
This letter is sealed with a Kiss.
(Hershey's kiss)
Love,
Angie
Let me show you an example of what kind of candy bar card ideas I'm referring to by sharing one similar to one I made years ago.  You can come up with some witty ideas of your own and share them with me and the rest of my visitors by using the form at the bottom of the page.
Creating a unique gift for someone in your life is so easy.  First of all, you need to stop at the candy aisle of your local store. That is a real hardship, I'm sure. 😉
Brand name chocolate candy is ideal for chocolate candy bar cards. As you look over the selection, think of how you could use the brand name in a sentence. You may have to black out a letter or two in some cases.
You can purchase your favorite chocolate candy bars at your local grocery store or Walmart, or wherever you can get the best price. If you don't want to leave the house, just order candy bars online and have them delivered.
This short and simple candy bar card is similar to one I made for my sweetheart in college. He also happens to be my husband.  🥰
Of course, the sentiment on a chocolate candy bar card usually sounds a bit silly. That's half the fun!  Don't be shy. The person you choose to give a card like this to will love it, I promise!
Creative folks have shared with me on my old chocolate website some really amazing and imaginative ideas for long and elaborate candy bar cards they made for a variety of occasions.  I'm going to be adding them below.  You're going to love them!

The following step-by-step instructions and practical tips will make your task easier if this is your first time dabbling in candy bar card creations. 


How To Make A Chocolate Candy Bar Card
Choose the chocolate candy bars you are going to use for your card.


Write out your message on a piece of paper so you have an idea of the placement of your candy bars within the card.


Get a piece of poster board to use as your card. You can use basic white and then use multi colored markers for writing out your script. Alternatively, you can choose between a variety of colored poster boards. Just remember that if you choose a color that is too dark, you will have difficulty reading anything that you may write on it.


Depending on how many candy bars you are going to use, you must determine the size of your card. You can just leave your poster board flat, or you can fold it like a regular card.


It is a good idea to write your message on the card gently with pencil to be sure you have the placement just the way you want it.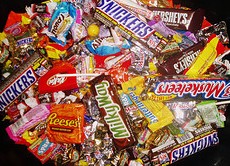 6.  Once you know exactly where you plan to put everything on your poster, you can begin writing your message with markers or texters (that's what we call them here in Australia 😉). 
7.  Use tape or hot glue to secure your candy bars in place.  The candy bars will probably be heavier than you expected when thinking about your layout, so it's a good idea to place them as balanced as possible across the page.
8.  If you want to jazz up your card or 'prettify' it a bit more, you can get fancy or stylish with paper lace doilies, construction paper, stickers, ribbon, etc. 
You are only limited by your imagination!


I hope you can use this idea to help you bless someone you
care about by making them feel extra special.  A personalized homemade chocolate candy bar card always does the trick!
Show Off Your Candy Bar Card Creations!
Have you thought of some creative phrases for making your own chocolate candy bar card? Go ahead and show off a bit!

Tell us about your clever creation so we can enjoy your ingenuity and maybe steal some of your ideas. 😊

I especially love photos! Take a pic of your masterpiece before you part with it and add the image to your post. I'm eager to see what you've come up with.
Check Out The Cards Other Visitors Have Shared
Get inspired by looking over some of the clever creations others have shared with me.
50th Birthday Candy Bar Card

I made this 50th Birthday Candy Bar Card for my sister's 50th Birthday on June 19th, 2013. She absolutely loved it and almost was in tears. She enjoyed …

Baby Shower Candy Bar Card

I wanted to make this candy poster for my cousin's baby shower this past summer. However, she lives far and my ride was cancelled so I couldn't carry …
Wedding Shower Candy Bar Card Not rated yet
I am interested in ideas for phrases for a wedding shower candy bar card for my niece's wedding shower. I have done a candy bar card for a birthday and …