Chocolate Toffee Recipes
For An Old Fashioned Delight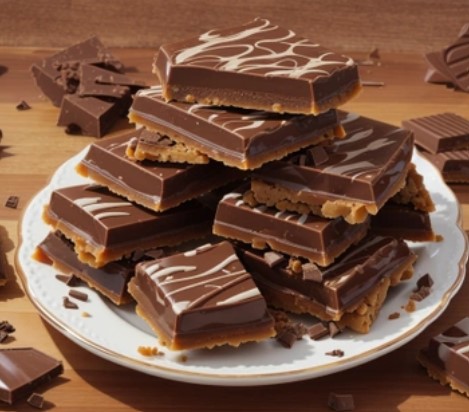 Chocolate Toffee Recipes are the foundation of rich and delicious treats. I personally love that buttery flavor combined with the chewy nut filled centers smothered in chocolate. What could be nicer?
Well, I guess the only thing nicer than wonderful chocolate toffee recipes would be to not have to make up a batch yourself. :)
You can get some delicious chocolate covered toffee online. I've ordered some from Alabanese that were pretty nice, and I've ordered some as gifts from Amazon.  

But why not make your own? Try some of these chocolate toffee recipes and develop your own unique favorite chocolate covered toffee recipe, but don't be surprised if your toffee doesn't last long!
Chocolate Almond Toffee Recipe
 Toffee:
1 cup butter flavored Crisco
1 cup sugar
1/3 cup honey
1/3 cup whipping cream
16 ounces sliced almonds

Glaze:
12 ounces semisweet chocolate
2 tsp. butter flavored Crisco
Heat oven to 375 degrees. Line two cookie sheets or jelly roll pans with foil. Grease the foil with butter flavored Crisco.


In a heavy saucepan, combine Crisco, sugar, honey, and whipping cream. Heat at medium high heat until boiling, stirring constantly. Boil for 1 1/2 minutes, then remove from heat. Add nuts and stir until completely covered.


Press mixture onto cookie sheets and spread out to about 1/4 inch thickness. Bake at 375 degrees for 8-12 minutes or until golden and bubbly. Cool for about 5 minutes before removing foil from cookie sheet. Leave the toffee on the foil and allow to cool completely on waxed paper.


To prepare glaze, melt chocolate and 2 tsp. Crisco in saucepan on low heat, or place in microwave safe bowl and microwave at medium heat in 1 minute intervals stirring every minute until melted and smooth. Allow to cool slightly.


Peel foil from toffee. Spread chocolate over the smooth bottom. Cool completely and cut into squares.


Chocolate English Toffee Recipe
1 cup chopped almonds
1 cup butter
1 cup brown sugar
4 Hershey chocolate bars
Sprinkle 1/2 cup of the nuts in a greased 9x12 pan. Melt butter in a saucepan. Add sugar and mix well. Boil for 12 minutes, stirring constantly.


Add remaining nuts to hot mixture. Pour into pan. Place chocolate bars on top of mixture. When melted, spread chocolate, cut into squares and allow to cool.
Can you believe it? There are a even more wonderful chocolate toffee recipes...


Chocolate Pecan Toffee Recipe
1 cup chopped pecans
3/4 cup packed brown sugar
1/2 cup margarine or butter
1/2 cup semisweet chocolate chips
Butter a 9x9 square pan. Spread pecans in pan. Heat sugar and margarine to boiling in 1 quart saucepan, stirring constantly. Continue to boil over medium heat, stirring constantly, for 7 minutes. 


Pour immediately into pan and spread evenly.


Sprinkle chocolate chips over hot mixture. (Cover with a cookie sheet to keep in the heat). When chocolate has melted, spread it over the candy. Cut into squares while still hot and then refrigerate until firm.


Heath Bar Toffee Recipe
Honey Graham Crackers (or regular if preferred)

1 stick butter
1 stick margarine
1 cup packed light brown sugar
5-6 Hershey Chocolate Bars
1/2 cup crushed nuts (pecans are a favorite)

Line cookie sheet with foil. Layer the graham crackers over the cookie sheet to cover completely. Cook butter, margarine, and brown sugar in heavy saucepan until dissolved (it will start to foam while boiling).


Spread evenly over graham crackers. Bake at 350 degrees for 10 minutes. 


Remove from oven and place pieces of chocolate bars over the hot toffee and allow to melt. Spread evenly over surface. Sprinkle crushed nuts over the top and gently pat to fix them in place.


Refrigerate or freeze until firm. Break into pieces. If you would like proper squares, score the lines before refrigerating. A greased pizza cutter works great.
Chocolate Toffee Recipes are fun to make. It is even more fun to eat the results! Store your toffee in an airtight container, a tin is great.
My advice - hide your chocolate covered toffee from prying eyes and sticky fingers if you want to be sure to have some for yourself! :)
Do you have other favorite chocolate toffee recipes that you would like to share? Add it below by filling out the form provided.

Can a person have too many chocolate toffee recipes???

Got A Scrumptious Homemade Chocolate Candy Recipe?
Do you have any tried and true homemade chocolate candy recipes? PLEASE, please be so kind as to divulge them to the rest of us chocoholics. We just can't get enough!!!