Pictures of Jesus Resurrection

These pictures of Jesus resurrection remind us of the most important event in the history of mankind - Jesus Christ's victory over death!


I have the privilege of teaching the children in the Australian public schools the wonderful stories of the Bible. I always tell them that the story of the death, burial, and resurrection of Jesus is the absolute worst story in the Bible and the absolute best story in the Bible, all rolled into one.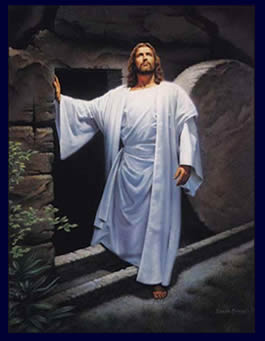 What Jesus suffered so that
you and I can go to heaven one day
was horrible for Him, but wonderful for us - - because HE took our place.
It wasn't just that Christ suffered the shame and punishment for our sin, as marvelous as that was. It was Jesus empty tomb - the fact that He arose - that really clinched the deal for us.
He conquered death and hell when God raised Him from the dead. It was a sure sign that His sacrifice was accepted and fully sufficient.
As I teach this amazing truth to the children (grades 1-7), I always feel such a great responsibility to help them really see and understand how much Jesus loved them that He would endure all that was necessary to buy our salvation and obey the will of His Father.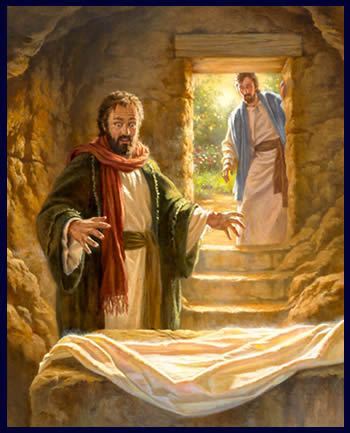 I also go to great lengths to help them grasp the fact that they must personally make the choice to believe on Jesus Christ alone as the Saviour and ask Him for that precious and free gift of forgiveness and salvation.
The faith of a little child is a remarkable thing. I never underestimate that faith because I myself put my trust fully in Jesus as a little child myself. Nearly 40 years later, I am still trusting Him alone in simple faith.
The wonder of
Jesus empty tomb
was a sign of hope to His followers on that day it was discovered over 2000 years ago. Jesus tomb is still a sign of eternal hope for us today. Paul explained in I Corinthians 15 how important Jesus' empty tomb really is...
I Corinthians 15:12-23
Now if Christ be preached that he rose from the dead, how say some among you that there is no resurrection of the dead? But if there be no resurrection of the dead, then is Christ not risen: And if Christ be not risen, then is our preaching vain, and your faith is also vain. Yea, and we are found false witnesses of God; because we have testified of God that he raised up Christ: whom he raised not up, if so be that the dead rise not. For if the dead rise not, then is not Christ raised: And if Christ be not raised, your faith is vain; ye are yet in your sins. Then they also which are fallen asleep in Christ are perished. If in this life only we have hope in Christ, we are of all men most miserable. But now is Christ risen from the dead, and become the firstfruits of them that slept. For since by man came death, by man came also the resurrection of the dead. For as in Adam all die, even so in Christ shall all be made alive. But every man in his own order: Christ the firstfruits; afterward they that are Christ's at his coming.
There is SO MUCH riding on the resurrection of Jesus. For me personally, EVERYTHING is riding on it. All of the purposes of my life, my faith, my hope, and my eternity are affected by the truth behind Jesus' empty tomb.
The older I get, the more meaningful becomes the importance of the resurrection. Now that my dear mother has passed away, I count on the truth of the resurrection in a way that is so much more real than ever before.
One of my mom's favorite songs was "Because He Lives." I sang it to her not long before she went to heaven. It is a song of hope and faith that I'll always treasure. Do you know it?
Because He Lives


God sent His Son. They called Him Jesus
He came to love, heal, and forgive.
He lived and died to buy my pardon
An empty grave is there to prove
My Savior lives

(Chorus)
Because He lives I can face tomorrow.
Because He lives all fear is gone.
Because I know He holds the future,
And life and is worth the living just because He lives.

(Last verse)
And then one day I'll cross the river.
I'll fight life's final war with pain.
And then as death gives way to victory,
I'll see the lights of glory and I'll know He lives

It was a bit difficult for me to sing this song for several months after she died because it so vividly recalled to my mind that "final war with pain" that she went through. It's really terrible!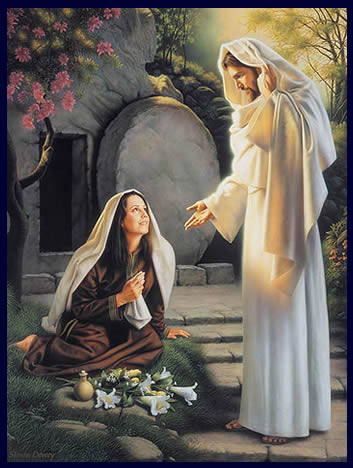 However, I was able to get through the worst part of my grief and loss because of my faith in the fact that it's true -
He lives!
I've been able to face each tomorrow and to look forward to that great day of reunion because He lives.
When teaching the Gospel, we need to emphasize the resurrection as much as we emphasize the cross. Without the resurrection, there would be no power in the cross.
I thought these were all such beautiful examples of pictures of Jesus resurrection that you might find them inspiring, like I do.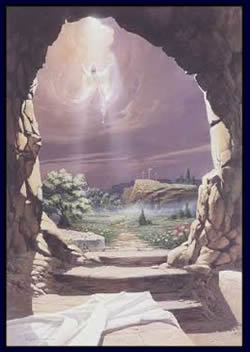 You might like to make one of the images into your screensaver or print one out for your desk so that you can be reminded regularly of the greatest gift you have ever received - eternal life.
Pictures of Jesus resurrection are certainly not to be worshiped in any way. We don't want to fall into idolatry, of course, and I've always been a bit hesitant to use photos of Jesus because we don't really know what He looked like.
But one thing I have found in teaching children over the last 30 years is that visual aids are extremely helpful in holding their attention and giving them a real understanding of the Biblical accounts.
I don't feel the Lord minds pictures of Jesus resurrection when used for the purpose of glorifying Him and teaching the truths of salvation. Hopefully I'm right about that. :)
---
Pictures of Jesus Resurrection Coloring Pages:
Are you looking for pictures of Jesus resurrection to use as a coloring page for your children or perhaps your Sunday school class?
Here are a couple that would work well for that purpose. They are pdf files that will open in a new page so you can print them out if they suit your needs:
Please note: I found all of these pictures of Jesus Resurrection on various free sites or on multiple sites where I couldn't identify who might be the original copyright owner. I apologize in advance if I've offended someone's copyright. If you are the rightful owner of one or more of these pictures of Jesus resurrection and would either like me to remove the photo or provide attribution, please send me a note via my contact form and I will be happy to do so.
Return from Pictures of Jesus Resurrection to How Can I Go To Heaven
Return to Angie Berg's home page