Small Business Work At Home
Small Business
Work At Home Opportunities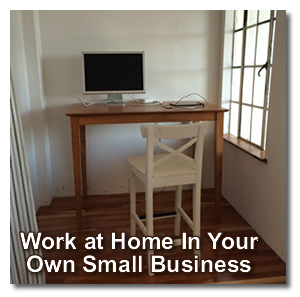 Finding small business work at home ideas that will really work for you and are affordable is a challenge that many people face when they start looking for ways to increase their income. 

I'm hoping this article will help guide those of you interested in starting your own small business to discover some of the best opportunities available as well as help you choose which is best for you.

If I can help you get started on the road to becoming a successful home business owner, I'll be tickled pink.  I have loved learning all about small business work at home opportunities, and sharing my successes with others is an extra thrill.

What kind of business startup are you most interested in pursuing?   Home business?  Online business?  Network marketing/MLM?  Affiliate marketing?  Selling your own products?  Offering a service?


If you already have a little idea or direction, that's a great place to start, but don't limit yourself by not looking at all your options.

You may not end up following that direction in the end, but if you feel strongly about a certain type of business opportunity, you can most likely make it happen if you have the right guidance.

When I first began considering small business ideas for myself, I had absolutely no idea which direction to go.

Literally, I was surfing the internet looking for something, almost anything, that met three criteria.



By ethical, I mean that I was looking for something that would be helpful to others and not take advantage of them in any way. Of course, I wouldn't dream of getting involved in a business that destroys lives, like gambling, alcohol, or pornography, etc.


By affordable, I mean that I had very little money to invest up front. Several hundred dollars was going to be a real stretch and money I couldn't really afford to lose.


By genuine, I mean that I didn't want to fall for any of the thousands of scams, schemes, and hyped up sales pages I was encountering all over the internet.


My Small Business Work At Home Discovery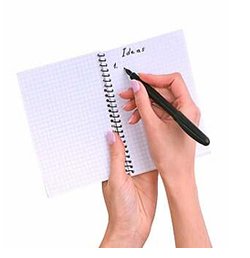 I prayed for some direction and guidance and ended up running across an interesting and very informative free resource, the Affiliate Masters Course. It opened up my mind and my options to a world of possibilities.

I followed the blueprint that was laid out and began by making a list of things that I really love, am passionate about, and/or knew a lot about.


My list wasn't excessively long to begin with, but then I narrowed it further by crossing out topics that, for one reason or another, I didn't really want to pursue as a business theme.


Believe it or not, after some further research I ended up starting my first online business around the area of chocolate candy. I've been very happy with the results and you can visit my site Chocolate Candy Mall.


This was just the beginning...
More Small Business Work At Home Websites?

Not having the first idea about how to build a small business website, I turned to the most reliable online business building program, Solo Build It, and followed their step-by-step process using their all-in-one tools and resources.


I discovered their program met my criteria on all three levels mentioned above - ethical, affordable, and genuine.


After building the foundation for Chocolate Candy Mall, I discovered I absolutely loved what I was doing, and more small business ideas began flooding my mind. The possibilities were endless.


More Ideas For Starting Your Own Small Business

My best suggestion for someone searching for small business work at home ideas is to do what I did and build a theme-based niche website using Sitesell's Solo Build It based on your own personal knowledge, interest, or passion. I know for sure it works, and you CAN do it.


However, we're all different. If you are absolutely certain that you don't want to go down that route, here are a couple of other small business work at home opportunities that you can use for starting your own small business online, offline, or a combination of both.



Make and Sell Homemade Candy, Sweets, Treats - This is really ideal for stay at home moms who love to cook or bake. Of course, it's not limited to "moms" but anyone who can make irresistible, mouthwatering goodies.

How to sell them? Online you can offer party favors, brownies, fudge, candy, homemade cookies, caramel popcorn, chocolate covered nuts or fruit, etc., for sale in the CCM Store for a small monthly listing fee. No commissions are charged on sales generated.

Offline, you can offer your homemade treats at a variety of venues - staff lounges at hospitals, schools, offices, etc. You can approach your local police station, fire station, banks, etc., and bring in some samples for them to test with their consideration for regular deliveries.

If you happen to live near a large manufacturer or warehouse where employees come out for a lunch or break time, they often have food trucks that arrive at those times to sell sandwiches, soup, etc., to employees. You can seek permission to sell your sweets - the most amount of sales for a short space of time.



Freelance Writing - If you love to write, you can build up a nice online business by writing articles (content) for other people on a variety of subjects. You may have to start off charging less for your services, but after you build up a reputation of good service, you can start bumping your prices up until you are making a decent income.

Of course, freelance writing is never going to bring you a passive income, but if it's a skill you enjoy and are proficient in, it may be the right choice for your starting your own small business.

Good places to find clients for freelance work are...   Upwork and Freelancer.



Create Gift Baskets for Corporate Gifts - Real estate agents, new car dealers, and other businesses that deal in high priced sales items, often like to give a new client or customer a gift to say "Thank you for your purchase," or "Congratulations on your new..."

To start up a business catering to this clientele, begin by making a selection of nice looking gift baskets with different themes. A few ideas - chocolate, coffee/tea, wine, gourmet Italian, picnic hamper, etc.

Take some nice photos and have a brochure and business cards made up at Vistaprint.  Hand deliver them to the appropriate local businesses in your area.  Follow up with a courtesy call every 2-3 months to keep your business fresh in their minds.




Network Marketing/MLM - If you are in a network marketing business or seriously considering making MLM your small business opportunity choice, here are some important and valuable resources to consider.

Becoming an InterNetwork Marketer
7 Great Lies of Network Marketing
The Renegade Network Marketer



Whether or not any of these small business work at home ideas are right for you, perhaps they will trigger something that will spark another idea to get you pointed in the right direction. If you have any questions, or need some further help, please don't hesitate to ask.


Return from Small Business Work At Home to Home Computer Work
Return to Angie Berg's Homepage