Ask Angie

Contact Us With Questions Or Just Say Hello
If you'd like to contact us, or ask Angie a question, we'd love to hear from you. This form makes reaching us quick and easy.


Soon, I'll have a guest book page so that if you're just an old friend stopping in to say hello, we can all catch up and chat back and forth, much like a forum.


Until then, I'm always happy to hear from you here. I don't put my email address live on the site because I hate sifting through the hundreds of spam emails that always result (some quite unpleasant). Yuck!


Don't worry. It's just as quick to contact me this way, maybe quicker. Just be sure to look for a response from me in your junk mail filter, too. You can save the hassle by adding angieberg.com to your contacts (or whitelist the site) so my reply lands right into your "in box."


Okay, go ahead and tell me what's on your mind. I'm looking forward to hearing from you.

Thanks! You'll be hearing from me soon.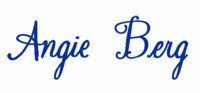 Return from Contact Us form to Angie Berg's homepage